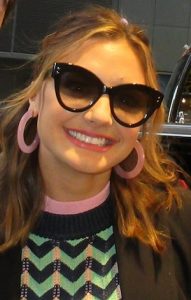 Hollywood star Christine Evangelista had embarked on an acting career starting in the mid-2000s. After landing one-episode roles on TV, she finally landed her first main role as Ashley Beck on the TV series The Kill Point. After its cancellation, she continued making guest appearances on the small screen, such as on Canterbury's Law, Law & Order, White Collar, and Royal Pains.
In 2009, she had performances in the films The Good Guy and The Joneses. She starred on the pilot called Dumb Girls, but it never aired. She then appeared in 2 episodes of 666 Park Avenue before landing a starring role as Mary Lavecchia on Lucky 7. In 2014, she played Allison Rafferty on Chicago Fire. During this period, the actress also furthered her career on the big screen with roles on Alter Egos, Red Butterfly, The Intern, and Bleed for This.
Between 2015 and 2017, she garnered wider recognition for her role as Sherry on The Walking Dead. Her Hollywood career further flourished when she landed the lead role of Megan Morrison on the E! series The Arrangement. The show aired for two seasons so following its cancellation, she was asked to reprise her role as Sherry on Fear the Walking Dead.
In an interview, Christine Evangelista admitted she doesn't follow any strict diet regimen. "I'd like to say I have a lifestyle when it comes to working out and exercise, but I don't," said the actress. "I grew up on Italian food and carbohydrates, and I'm here in L.A., so I'm definitely going to be stopping at In-N-Out."
Despite this, she still makes efforts to opt healthier choices most times. When she's working, hydration is important for her so she's conscious when it comes to staying hydrated. She also loves to cook, allowing her to use healthy ingredients of her choosing. "I cook a lot. I cook a lot of organic vegetables and anti-inflammatory foods," she said.