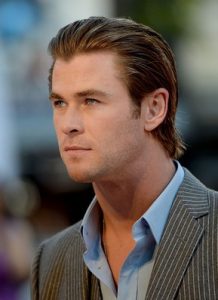 Chris Hemsworth is an Australian actor who started his career there by appearing on Australian television shows, most notably on Home and Away. Wanting to explore Hollywood opportunities, he auditioned for roles in LA and finally got a short but important part in Star Trek in 2009. His major breakthrough, however, was when he played the titular character in the superhero film Thor, followed by the box office hit The Cabin in the Woods. Reprising his role as Thor, he starred in The Avengers and played The Huntsman in Snow White and the Huntsman. He then portrayed Thor again in the sequel Thor: The Dark World and in Avengers: Age of Ultron. His most recent work on the big screen are In the Heart of the Sea and The Huntsman: Winter's War.
The Aussie hunk is now a household staple anywhere in the world courtesy of his awesome portrayal of Thor in the Marvel Cinematic Universe. Of course, he worked hard to achieve a much bigger body to effectively play a superhero from another planet, but aside from his engagement in hard work and rigorous physical routine, he also observed a clean and a healthy diet to manage his weight and increase his muscles. Chris is actually amazing when it comes to discipline as he bulked up for his role in The Avengers and then slimmed down for his role in Rush.
For this reason, he weighed from 215 pounds to 185 pounds. In an interview, he said: "I immediately went from weightlifting into cardio training to shed that extra 30 pounds, which was a pretty nasty thing to do. I'd rather put on weight any time. I was basically underfed and over-trained for a number of months—and it was still a squeeze to get into the Formula 1 car." Chris also said that maintaining a strict diet for four months to lose weight was harder than doing exercises. During this time, he little protein and carbohydrates but lots of veggies. He would also drink tons of water.