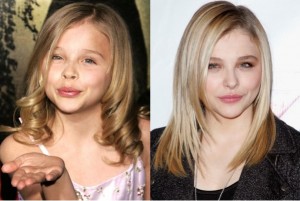 Early Career and Ultimate Hollywood Success
Chloë Grace Moretz was born on February 10, 1997 in Atlanta, Georgia. When she was around five, she moved to New York with her mother and older brother after the latter was accepted into the Professional Performing Arts School. Her brother's involvement in the performing arts was what inspired her in the first place to enter the acting industry as well.
When her interest for acting deepened, her family supported her and would take her to auditions. She made her screen debut in 2004 after appearing in two episodes of the television show The Guardian. The following year, she got noticed for playing the youngest child of the Lutz family in The Amityville Horror. This got her a Young Artist Award nomination for Best Performance in a Feature Film – Young Actress Age Ten or Younger.
Subsequently, she acted in numerous films, including Big Momma's House 2, Room 6, and Wicked Little Things. All these three released in 2006. Around the same time, she also appeared in two episodes of Desperate Housewives, followed by another notable role in Dirty Sexy Money as Kiki George. Though she was playing roles on television, she didn't stop from taking movie roles in the late 2000s, performing in The Third Nail, The Eye, The Poker House, (500) Days of Summer, Bolt, and Not Forgotten.
In the beginning of the new decade in the 2010s, she started it with a role in Jack and the Beanstalk and gained further recognition for her role in Diary of a Wimpy Kid, though it was her performances in 2010's Kick-Ass and Let Me In that earned her great reviews, exposing her to international viewers. This was followed by more mainstream movies, including Hick, Hugo, Dark Shadows, Kick-Ass 2, Carrie, and If I Stay. In addition, she starred in the French film Clouds of Sils Maria released in 2014 and starred opposite Denzel Washington in The Equalizer also released in 2014.
Has Chloë Grace Moretz had Plastic Surgery?
The 18-year-old star may be young but her fame in Hollywood continues to rise. With her remarkable performances in almost all genres of movies, Moretz is truly a favorite, not only among teens but among grown ups as well. Despite her solid acting skills, the young actress is sometimes being thought to being overly mature in her performances. This uncalled for maturity results to some people thinking that maybe the Kick-Ass star has had plastic surgery to prominently enhance her appearance.
Those who have followed her career would known that she began acting as a little girl. Several years later, she's more famous and people love her. She has lots of upcoming movies and with her young age, something great is expected of her in the next years to come. Though it seems that she really has changed, it can be attributed to make-up and more modern styling. Also, it has something to do with how she projects herself, which is what probably makes her more mature-looking. Thus, it's highly unlikely that plastic surgery is behind her present look. Her facial features are flawless, but there are no indications that they're unnatural.