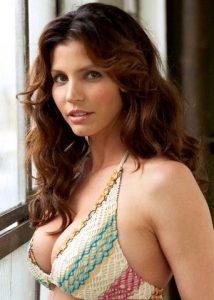 Hollywood celebrity Charisma Carpenter's claim to fame was her role as Cordelia Chase on the popular show Buffy the Vampire Slayer. She was part of the show's main cast from seasons 1-3. She reprised said role on the spin-off Angel and stayed as a regular cast in all its five seasons. After this ended, she guest starred on several TV shows. She then played the recurring part of Kendall Casablancas on Veronica Mars. She next starred on some TV movies, including Voodoo Moon and Relative Chaos. The rest of the 2000s and early 2010s saw her with mostly guest appearances. She then joined the main cast of The Lying Game. Since 2013, she hosts the show Surviving Evil.
She may be in her late 40s, but the former Buffy the Vampire Slayer's figure surely remains slender and toned. She still looks youthful and gorgeous that she doesn't look like her age. What could be her secret? It's simple, really – healthy lifestyle. Aside from her workouts, Charisma stays in shape because she is careful of what she eats. She makes it a point to always watch what she consumes. Mostly, they have to be nutritious not only to maintain a slender figure, but also to fuel her body to become highly energetic.
In an interview, the actress revealed she always eats in moderation. Portion size is something that has helped her maintain her healthy weight all these years. Instead of eating three huge meals daily, she eats several small meals each day. This avoids her from feeling hunger pangs, which can cause binge eating. She also tries to consume much proteins in order to prevent herself from craving unhealthy foods. On the other hand, the actress admits she does have a weakness for chocolate and salt & pepper potato chips. But she indulges in her cravings only every now and then and in moderation.