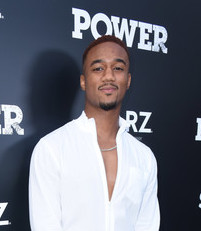 Hollywood actor Jessie Usher debuted in 2005, appearing in an episode of Without a Trace. The rest of the decade saw him appearing with one-time roles in Hannah Montana, Lincoln Heights, Numb3rs, and The Mentalist. He next appeared in 2 episodes of Criminal Minds. In 2010, he appeared in the television film Summer Camp. That same year, he also made his cinematic debut in the film Beautiful Boy.
From 2011 to 2012, he starred as Lyle Hugginson in the television series Level Up, which was his first regular role on the small screen. He later appeared in the movie InAPPropriate Comedy. After this, he starred as Cam Calloway in the Starz series Survivor's Remorse, which he starred in between 2014 and 2017.
He simultaneously starred in the films When the Game Stands Tall, Independence Day: Resurgence, and Almost Christmas, earning him wider recognition. As of 2019, he stars as A-Train in the Amazon series The Boys. At the same time, he starred as John 'JJ' Shaft Jr. in the action-comedy film Shaft. Most recently, he starred in the 2020 film The Banker, as well as in the Netflix movie Dangerous Lies.
Jessie Usher bulked up for his role in the comedy show Survivor's Remorse. It was actually required of him to gain 20 pounds, so he did in a matter of six weeks. In an interview, he shared about how he did it. "Well with my trainer I would work out in the mornings and we would only work out for an hour and a half," said the actor.
"We would alternate between whatever muscle group we were working on, and also abs every single day and calves every day, too. I would do that, but then at night I would go back to the gym because I wanted to do more ab workouts." He also shared how leg workouts were the most rigorous for him. "We would alternate between seated calf raises, standing calf raises, then I would do leg press and leg extensions, and tons and tons of lunges," he said.