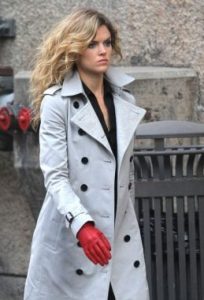 Prior to her acting career, Camren Bicondova performed as a dancer when she was younger. She joined The PULSE on Tour dance convention at age 11, allowing her to travel and work with some of the best choreographers. Eventually, she got into acting, debuting in an episode of the Disney sitcom Shake It Up in 2011. Afterward, she made her cinematic debut, playing the role of Prissy in the dance feature film Battlefield America. She also appeared on the reality dance competition America's Best Dance Crew as a contestant. She competed as a member of the group 8 Flavahz.
In addition, she appeared as a backup dancer in Ciara's music video of "Got Me Good". She next appeared in the film Girl House. In 2014, she appeared in the music video of Krewella's "Enjoy the Ride". As an actress, she got her major breakthrough after landing the role of Selina Kyle / Catwoman on the Fox series Gotham. She started playing the part in 2014 and continues to do so up to present. For her role on Gotham, she was nominated for Best Performance by a Younger Actor in a Television Series at the Saturn Awards.
The dancer turned actress takes care of her body by following a clean diet plan. That's apart from her active lifestyle that includes her workout routine. Eating clean is something that she does naturally because it's what makes her feel great from the inside out.
"If I don't eat clean foods, I get tired easily. I have really weird skin, so if I don't workout and eat poorly, I break out. Beauty definitely starts from the inside, so if you feel good, you will look good," said the Gotham actress. "I can only eat crap one day every week (Saturdays) because otherwise, my skin doesn't cooperate with me and I feel sick. As long as I stay away from milk and spicy foods, my body loves me," she added.