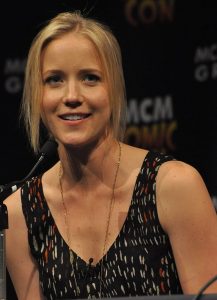 It was in 2004 that actress Jessy Schram started acting professionally. She had her first gig with a one-time role on the Nickelodeon series Drake & Josh. She later starred as Susan Davis in Hallmark's TV film series Jane Doe. In 2006, she made her cinematic debut in I Want Someone to Eat Cheese With, as well as appeared in the comedy film American Pie Presents: The Naked Mile. Back on television, she played young Allison on Medium and Hannah Griffith on Veronica Mars. She later starred as Rachel Seybolt on the short-lived series Life, followed by roles in the films Keith and Unstoppable.
Her career flourished in the 2010s, first starring as Karen Nadler on the TNT series Falling Skies, which aired on TV from 2011-2014. At the same time, she played Ashley Boyd/Cinderella in 4 episodes of Once Upon a Time. She later starred on the Hallmark TV movie A Smile As Big As the Moon. Following this, she starred as Christine Kendal on the short-lived show Last Resort. In 2014, she had a 4-episode role on the acclaimed series Mad Men as Bonnie Whiteside. She next played recurring character Nance O'Keefe on The Lizzie Borden Chronicles. From 2015 to 2016, she played Cash Gray on Nashville. In addition, she had roles in the films The Submarine Kid, Harvest Moon, and Shot Caller. Her latest credits were in two Hallmark TV films.
Apart from her workout routine, the television star takes care of her body by sticking to a clean diet plan. In general, she avoids eating processed foods and sticks to clean, organic ones. It's not very difficult for her to maintain a nutritious diet because eating healthy foods makes her good from the inside out. On the other hand, junk foods only make her feel sick. Hence, it's a no-brainer for her to focus on having healthy meals.