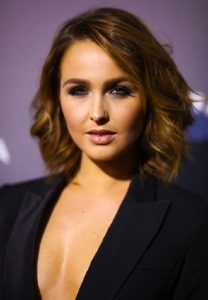 English actress Camilla Luddington established her career on TV. She became more prolific in the 2010s, mostly appearing in guest roles. She gained attention in 2011. This was after being chosen to play Kate Middleton in the TV movie William & Kate: The Movie. Afterwards, she had recurring characters on Californication and True Blood. She's now a well-known TV actress. This is courtesy of her role as Jo Wilson on Grey's Anatomy. She's also portrayed Lara Croft in the movie Tomb Raider: The Final Hours – A Story of Survival. Additionally, she's acted in the movie The Pact 2.
The pretty-faced actress is now a well-known figure on television. Thanks to her contagious radiance and strong screen presence, she got her big break on Grey's Anatomy. Aside from her beautiful face, she's also known for her gorgeous body. Standing at 5'5, the 33-year-old actress takes care of herself through healthy eating. This is in addition to her workout routine. Reaching her 30s, she understands the importance of being more careful. When it comes to her health, she doesn't stay complacent. Her fitness is something that she relies on to work more efficiently. The healthier she feels, the more hardworking she becomes.
For one, she mostly eats nutritious food. Though she has cravings from time to time, she makes sure she doesn't eat too much. She wants to consume clean and healthy foods to be absorbed by her body. In the morning, she eats healthy breakfast. This is mostly oatmeal, sometimes eggs, and wheat bread. For lunch, she has chicken and pasta, or a sandwich. At night, she eats fish with veggies. It's also important to her that she incorporates fruits and vegetables in her every meal. For snacks, she munches on nuts, sometimes yogurt, or fruit shakes. She likes chocolates, but mostly eats the dark ones as these are healthier.