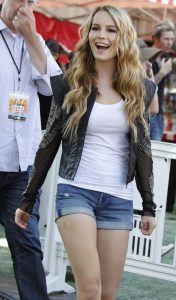 It was in 2004 that Bridgit Mendler got her career start with a voice role in the Indian animated movie The Legend of Buddha. Her first TV appearance was in an episode of General Hospital. She later had roles in the films Alice Upside Down, The Clique, Alvin and the Chipmunks: The Squeakquel, and Labor Pains. She was first noticed after landing the role of Juliet van Heusen in the Disney sitcom Wizards of Waverly Place. She then achieved greater success on television courtesy of her role as Teddy Duncan in the Disney sitcom Good Luck Charlie.
Simultaneously, she starred in the made-for-television movie Lemonade Mouth. She also appeared as herself in the shows Extreme Makeover: Home Edition and PrankStars. She next guest-starred in many shows, including House and Jessie. She later starred in the movie Muppets Most Wanted. From 2015 to 2016, she starred as Candace in the short-lived NBC sitcom Undateable. She also ventured into recording music. She released her debut album Hello My Name Is… in 2012. It produced the hit song "Ready or Not".
The 25-year-old actress stays in shape by sticking to a healthy lifestyle. Aside from following a clean diet plan, she also tries her best to work out as regularly as possible. According to reports, the actress-singer works with a trainer to help her with her workout routine. She goes to the gym during her free time and works out, mostly combining activities from cardio to spin classes.
She also stays in shape by just being active. As a prolific actress and singer, she's usually mobile and her performing career also keeps her active by singing and dancing, which can be a great form of exercise already. Whenever time permits her, she also likes to get active by playing sports and engaging in outdoor activities, such as hiking with friends.