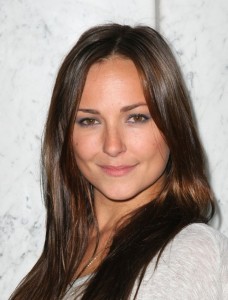 American actress Briana Evigan initially began her acting career in 1996 when she was ten years old. She appeared in the movie Spectre, which is also known as House of the Damned. She didn't follow this with any other work on the screen as she focused on her education as a young girl. She only returned in 2004 when she was already 18. Because she's actually a dancer, she was tapped for a starring role in a Step Up sequel, which she accepted, starring as Andie West in Step Up 2: The Streets in 2008. This gave her significant exposure, leading her to star in other movies, particularly in horror and slasher films like Sorority Row in 2009 and The Devil's Carnival in 2012. She has also reprised her role as Andie in Step Up: All In released in 2014 and as Ms. Merrywood in The Devil's Carnival: Alleluia! released in 2015. On television, she's most notable known for her recurring character on From Dusk till Dawn.
Standing at 5'5, the 29-year-old actress is both a prolific actress and dancer. Aside from being multi-talented, she's also best known for her slender and athletic figure, which she maintains by her active and healthy lifestyle. Her dancing alone can be considered as a form of workout, so this is really great for her. She gets to work out while doing the thing that she loves. When it comes to her eating habits, the actress makes sure she practices portion control, especially when she's really dieting for a specific film role.
She loves to eat but she makes sure she mostly eats healthy foods. Most of the time, she consumes lots of veggies and fruits. She can't get enough of them that she also drinks fresh pressed juices. To avoid gaining weight, she focuses on eating low-carbs foods to maintain her practice of clean eating. She believes healthy eating allows her body to be more physical and she also feels great about herself. Of course, Briana also has indulgences when it comes to food and hers happen to be pizza and pasta!