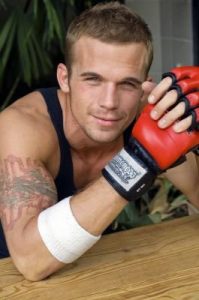 American actor Cam Gigandet has had a prolific career since the early 2000s. Starting out with the soap opera The Young and the Restless and the drama series Jack & Bobby, he eventually gained recognition for his recurring character on The O.C., playing the role of Kevin Volchok. After this, he was cast for a role in the movie Never Back Down, further garnering him notice. Around the same time, he played James in Twilight, which got him mainstream attention. Since then, he has played supporting to starring roles in The Unborn, Pandorum, Easy A, Burlesque, The Roommate, and Priest, among others. He has also played lead roles in indie cinema like in Bad Johnson.
Apparently, actor Cam Gigandet has a muscular, chiseled-looking body, which he has showcased in many of his films. Good thing about his body is that although he appears to be buff, it doesn't seem to be too much. With this, it can be said his workout routine is calculated to serve proper purpose. Basically, the actor starts his session with cardio exercises. This includes running on the treadmill to prepare his body for the more intense training. This not only gets him warmed up, this also tones his muscles and activates his core.
Interestingly, Cam is not into ordinary exercises like squats, barbell, and bench press. Instead, his circuit involves a mix of isolation and compound workouts. This results to the maximizing of his muscles in alternate ways for a more enhanced outcome. He also focuses on endurance rather than strength. That is why he prefers doing high reps using only light weights. This helps avoid the addition of mass and maintains his lean body. Doing this also increases his metabolism, resulting to the loss of unwanted fat. While doing his routine, the actor makes sure he is hydrated.