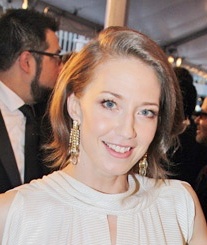 It was in 2011 that actress Carrie Coon started her screen career. She debuted in an episode of the television series The Playboy Club playing Doris Hall. She next landed a one-episode role in Law & Order: Special Victims Unit. She also had one-time roles in Ironside and Intelligence. In 2014, she made her big screen debut playing the role of Margo Dunne in David Fincher's film Gone Girl. That same year, she starred Nora Durst in the HBO series The Leftovers. She starred on the show from 2014-2017.
After it ended, she had performances in the feature films The Keeping Hours and Izzy Gets the F*ck Across Town. She also portrayed Meg Greenfield in the movie The Post. At the same time, she became known for her role as Gloria Burgle on the FX series Fargo, playing Season 3's female protagonist. In 2018, she starred in the films The Legacy of a Whitetail Deer Hunter, Kin, and Widows. She also played Proxima Midnight in Avengers: Infinity War. Additionally, she starred as Vera Walker in The Sinner's second season.
Apart from her healthy diet plan, the actress maintains her overall well-being by keeping herself active. For starters, working out is part of her lifestyle. "Exercise alleviates my anxiety and keeps me sharp," the actress said. As an actress, she moves from one city to the next. In order to avoid getting bored with her workout routine, she opts "a different activity in every city".
"When I'm home in Chicago, I work with Brian Donovan on overall fitness and maintenance for my new ACL. In Calgary, I'm taking classes and private lessons at Calgary Pilates, and when I'm in New York, I go to Church Street Boxing," she further added. She's also learned to love meditation recently. According to her, it's been an important part of her daily routine and has since helped her physically and mentally.