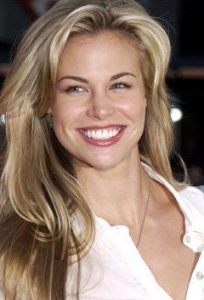 Celebrity Brooke Burns is an actress, model, and TV host. In 1996, she made her acting debut playing the role of Peg on the teen sitcom Out of the Blue. She next had a one-time role on Conan the Adventurer, followed by a 4-episode role as Jennifer on Ally McBeal. From 1998 to 2001, she became widely known for her role as Jessie Owens on Baywatch: Hawaii. Soon after, she made her big screen debut in the movie Shallow Hal. Her next work on television was as the host of the game show Dog Eat Dog. Afterward, she starred as Nicole Booth on the primetime soap opera North Shore.
She then starred as Kathy Dinkle Williams on the comedy-drama series Pepper Dennis. During this period, she also had roles in the films The Salon and Urban Decay, as well as in the straight-to-video movies Single White Female 2: The Psycho and Death to the Supermodels. She also had performances in a couple of Hallmark films. In 2008, she played Lisa Germain on the show Miss Guided and co-hosted the program Hole in the Wall. She later played Vanessa Mancini on Melrose Place and got another hosting work for You Deserve It. From 2013 to 2015, she hosted the quiz show The Chase, as well as the show Motor City Masters in 2014. As a film actress, her latest work was in 2015's Where Hope Grows.
The 40-year-old actress remains slender, fit, and healthy thanks to her workout routine. For her active lifestyle, she has her family to thank for. "I grew up in a fit family, and my parents set a really great example for me," said Burns. She also doesn't let a busy week get in the way of her health goals. "I'm all about the idea of elongating my life by doing little things. If it's a busy week, I'd rather carve out 10 or 15 minutes to exercise rather than wait for the timing to be perfect," she said. She also loves getting started early in the morning where she runs and hikes for about 45 minutes.