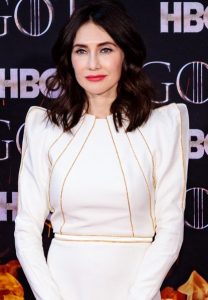 Dutch actress Carice van Houten had her career beginnings in the late 1990s. She first appeared in the Dutch film 3 ronden. She also made her television debut in a Dutch series. In the 2000s, she gained recognition in the Netherlands for her roles on the big screen. During this period, she appeared in the films Undercover Kitty, Father's Affair, Black Swans, Lepel, A Thousand Kisses, Black Book, Love is All, and Dorothy Mills. She later portrayed Nina Schenk Gräfin von Stauffenberg in the feature film Valkyrie.
Later in 2009, she had a role in the British film From Time to Time. In the 2010s, van Houten pursued a career in the US. Her Hollywood debut was in the movie Repo Men. Later, she had performances in the films The Happy Housewife, Black Death, and Intruders. The actress then played the lead part of Ingrid Jonker in the film Black Butterflies.
Later in 2012, she became internationally known for her portrayal of Melisandre of Asshai in Game of Thrones. She remained as one of the show's cast until its finale in 2019. At the same time, she played Birgitta Jónsdóttir in the film The Fifth Estate and Leni Riefenstahl in the biographical sports film Race. van Houten continued her film career with roles in Brimstone and Incarnate. This year, she had roles in the movies The Glass Room, Domino, and Instinct.
Already in her 40s, the actress stays in shape by following the Carice van Houten workout routine. She's already at her age where she's not tempted to be lazy. She loves to walk around and work out at the gym if she has time. Her fitness regimen includes cardio, yoga, Pilates, and a bit of strength training. She's also tried boxing. For her roles in the US, she also took more efforts to maintain a healthy weight.