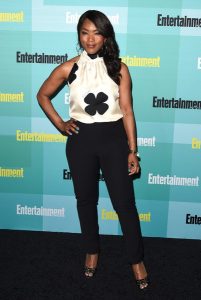 Actress Angela Bassett debuted in the 1986 film F/X. In the 1990s, she had roles in the films Boyz n the Hood, City of Hope, Passion Fish, and Innocent Blood. She next portrayed Betty Shabazz in the 1992 film Malcolm X. Her portrayal of Tina Turner in the movie What's Love Got to Do with It garnered her critical praise. For her performance, she was nominated for an Academy Award for Best Actress.
She went on to star in the movies Panther, Strange Days, Vampire in Brooklyn, and Contact. In the 2000s, she starred in The Score, The Lazarus Child, Akeelah and the Bee, and Notorious. During this period, she also played CIA Director Hayden Chase in the ABC series Alias and Dr. Cate Banfield in ER. In the 2010s, she starred as Marie Laveau in American Horror Story: Coven, Desiree Dupree in American Horror Story: Freak Show, and Ramona Royale in American Horror Story: Hotel.
She also starred in American Horror Story: Roanoke. In 2018, she started starring as Sergeant Athena Grant in the Fox series 9-1-1. Back in the movies, she played Amanda Waller in Green Lantern, Lynne Jacobs in Olympus Has Fallen, Ramonda in Black Panther, and Erika Sloane in Mission: Impossible – Fallout. She recently starred as Carol Walker in the comedy film Otherhood.
The actress stays in shape by watching what she eats. For starters, she avoids anything dairy. "I'm regimented and rigorous about what I'm eating," said Bassett. "Diet is 85 percent of the whole thing for me." In an interview, she said that even though her food choices are always varied, she makes sure she always eats veggies.
"Monday, Tuesday, I may eat carbs, fruits; Tuesday, Wednesday, protein, veggies—veggies every day—no fats those four days, and then the last three days, I flood it with fat," revealed the star. "Good fat, though: maybe coconut oil, salmon, almonds, almond butter, olive oil, that sort of thing."