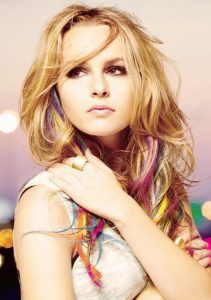 Hollywood celebrity Bridgit Mendler started her career in the mid 2000s. Her first significant role was as Juliet van Heusen on the Disney series Wizards of Waverly Place. During this time, she appeared in the films Alice Upside Down, The Clique, and Labor Pains. Shortly after, she landed the role of Teddy Duncan on another Disney series Good Luck Charlie. While on the show, she starred on the TV movies Lemonade Mouth and Good Luck Charlie, It's Christmas!. After Good Luck Charlie ended, she joined the main cast of the short-lived sitcom Undateable. She has also ventured into singing and recording. She released her debut album Hello My Name Is… in 2012.
The 25-year-old actress maintains her slender figure and overall fitness through eating healthy. Despite the temptations in the forms of fast food, junk foods, and all kinds of tasty meals that don't have nutritional value, she manages to mostly eat healthy. Thanks to her sticking to a healthy diet, she's able to maintain her health. Her skin also looks radiant thanks to her healthy eating habits. In an interview, Bridgit spilled some of her beauty secrets:
"When it comes to beauty, I think it's really important to keep your skin clear by drinking lots of water and by eating a healthy balanced diet. I make sure I drink a couple of full size glasses every day. I think that's really important to keep your pores clean!"
As mentioned, she sticks to a healthy diet. With this, she mostly goes for lean protein, fiber-rich foods, whole grains, fruits, and vegetables. Though she indulges in her cravings such as pizza, french fries, and burgers, and even some sweets, she makes sure she only eats them in moderation. She understands the importance of portion control in a diet. She doesn't need to deprive herself of the foods she loves as long as she doesn't eat a lot.