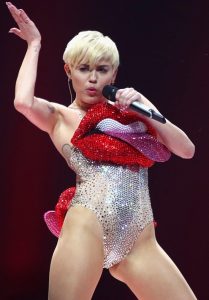 Hollywood celebrity Miley Cyrus started her acting career in the early 2000s. She later got her international break after landing the lead on the Disney series Hannah Montana. She reprised her role in the film Hannah Montana: The Movie. During this time she has also started a singing career. She released her debut album Meet Miley Cyrus in 2007. This was followed by the album Breakout in 2008. Her third album was called Can't Be Tamed, released in 2010. While still on Hannah Montana, she starred in the film The Last Song opposite Liam Hemsworth. Her major breakthrough as a singer was when she released her fourth album Bangerz. Her most recent album is 2015's Miley Cyrus & Her Dead Petz. She's also appeared on The Voice as coach for 11th season.
The 25-year-old actress maintains her slender figure and overall fitness with her active lifestyle. Not only does she work out regularly, she also engages in many outdoor activities to keep in shape. It's amazing considering how busy she can be. First and foremost, Miley keeps in shape by her dancing routine. Being a performer, dancing is part of her daily routine, especially during rehearsals for concerns and tours. Of course, dancing is a good way to burn calories, to stay toned, and get fit.
The singer-actress doesn't limit herself to only going to the gym. Aside from her workout sessions in fitness centers, she also maintains her fitness by being active outdoors. She loves biking, hiking, and even does yoga on the beach. Miley is also a known Pilates lover. She actually does Pilates with an instructor. This core workout is one of the reasons why Miley has a hot figure and a toned abs. Plus, she has her own studio at home, so that she can work with her trainers even when she's at home.