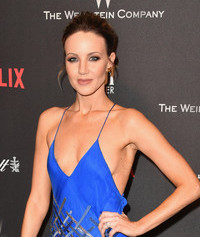 Hollywood actress Brianne Davis first appeared on television in 2001. Her first acting role was in an episode of Dawson's Creek. Some years later, she made her film debut in Crash Landing, after which she appeared in the movies Jarhead and The Kid & I. After this, she had roles in the independent films Swedish Auto and The Haunting of Marsten Manor.
Around the same time, she made guest roles in CSI: Crime Scene Investigation, Veronica Mars, and Entourage. Davis gained recognition for her role as Crissy Lynn in the slasher film Prom Night. She next played a supporting role in the 2009 film American Virgin. She continued guest-starring on television around the same time as well. In the 2010s, she appeared in the films The Victim, ChromeSkull: Laid to Rest 2, Synchronicity, and Magi.
In 2012, she played recurring character Grace in Hollywood Heights. She also appeared as Belinda in 2 episodes of True Blood. Afterward, she played Yolanda in If Loving You Is Wrong. She also guest-starred in 3 episodes of Casual. From 2017 to 2018, the actress starred as Lena Graves in the History channel series Six. However, the show was canceled after two seasons. Her other film roles was in The Night Visitor 2: Heather's Story.
The actress stays healthy by living an active lifestyle. She works out and she loves to hike. As for her diet plan, she doesn't follow any strict dieting tricks. As a matter of fact, she's a certified foodie. "I love to eat when I'm not working," said Davis. She allows herself to indulge in her cravings every now and then. In general, she eats whatever she wants, but she keeps it balanced by eating healthy foods most of the time. Typically, her regular meals consist of fish or chicken with brown rice and salad on the side. She also eats plenty of fruits on a daily basis.