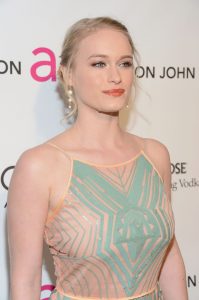 American film and TV actress Leven Rambin started her acting on the soap opera All My Children. Simultaneously, she joined the main cast of the short-lived show The Book of Daniel. In the late 2000s, she became known for her role as Riley Dawson on Terminator: The Sarah Connor Chronicles. She also played Sloan Riley on Grey's Anatomy. She went on to have another role on Scoundrels, another short-lived series. In the 2010s, she had notable roles on Wizards of Waverly Place, CSI: Miami, One Tree Hill, The Tomorrow People, and True Detective. She has also some remarkable parts on the big screen. She played Glimmer in The Hunger Games and Clarisse in Percy Jackson: Sea of Monsters.
Standing at 5'4, the actress is pretty much notable for her knack for acting and slender physique. She has also leanness in her that helped her land a role in The Hunger Games. Playing a female tribute in the 74th Hunger Games in the movie, she knew she needed to prepare her body for her action scenes. Of course, she also needed to achieve the proper physique of a true fighter. For this, she underwent rigorous training to physically get ready. She also trained to learn how to hold weapons.
Of course, it's given that along with her workout routine, she also made diet changes. In an interview, the actress revealed that she really pushed herself. She was talking about her training. About dieting she said: "Dieting was also a big part of it, so no dairy and no carbohydrates whatsoever." Even normally Leven eats healthy. She focuses on eating lean protein, fruit, and veggies. She avoids eating fried foods and processed ones as well. Most of the time, she chooses fresh, organic ones. Doing so makes her feel good not only on the outside but in the inside, too.