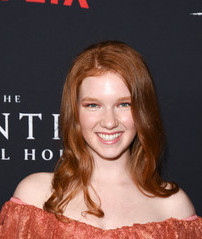 Hollywood star Annalise Basso first appeared in the 2007 independent film Ghost Image. After this, she had her first television appearance in an episode of Desperate Housewives. That same time, she appeared in the film Bedtime Stories. She next starred in the TV movie Love Takes Wing, as well as played a small role in the movie Dark House.
She later guest-starred in an episode of Lie to Me, True Blood and Three Rivers. Basso also appeared as herself in two episodes of Are You Smarter Than a 5th Grader? In the 2010s, she guest-starred in Childrens Hospital, Bones, Parks and Recreation, New Girl, and Nikita. She went on to appear in the feature films Standing Up and Oculus. Following this, the actress starred as Kate Jensen in the TV series The Red Road.
Her first role in a major film was as Vespyr Cash in the drama Captain Fantastic, released in 2016. That same year, she also starred in the horror film Ouija: Origin of Evil. In 2018, she had performances in the movies Nostalgia and Slender Man. These were followed by roles in TV films. She recently stars as LJ Folger in the new series Snowpiercer.
Annalise Basso sticks to a nutritious diet plan to stay fit and healthy. While she doesn't have any special diet tricks, she takes care of herself by just doing the basics – avoiding processed foods and applying portion control when eating. For her role in the film Captain Fantastic, the actress was also required to practice healthy eating as part of her role. During this period, she was not allowed to eat sugary or any other processed foods. Normally, she indulges in her cravings but always in moderation. She also focuses on having more whole grains, fruits, and veggies incorporated into her meals.