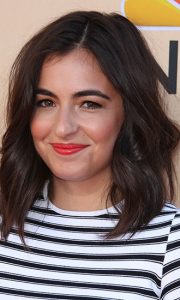 American actress Alanna Masterson has been on the US screen since the early 2000s. She has had guest appearances on various television shows, such as Definitely Maybe, Malcolm in the Middle and Greek. She also appeared in an episode of Terminator: The Sarah Connor Chronicles and Grey's Anatomy. Her first recurring role was on an unknown show First Day. She got her break in 2013 after beginning to appear on The Walking Dead. She started as a recurring role in Season 4. From season 5 onward she's part of the starring cast. Simultaneously she had a recurring role on the drama series Mistresses.
The 5'8 actress is now a television staple thanks to her regular gig on The Walking Dead. She also recently gave birth to her first child late last year. Being a new mom and a kick-ass character on TWD, Alanna takes care of herself by eating healthy and exercising. Her acting stint on the zombie series requires her to be more physically equipped in order to do action scenes more efficiently. To prepare her body for this, she focuses on eating lean proteins to nourish her muscles. She also relies on eating veggies and fruits to give her more energy.
In an interview, the actress shared her healthy eating habits. For breakfast, she said: "I always start with a green drink. I don't have much of an appetite in the morning, but this fills me up and makes me feel energized." She's more of a salad person, too, especially for lunch. She revealed: "Salads. I love a good salad. I make an amazing homemade dressing, so I like to make them myself." And for dinner time? Here's what she said: "I love a good piece of fish, or steak. With lots of veggies or french fries. I love me some french fries." As for her snacks, the actress loves almond milk and watermelon.