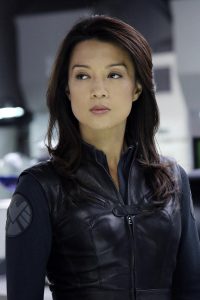 Chinese-American actress Ming-Na Wen got her beginnings in the 1980s. During her initial years, she had minor gigs in a few television shows. Her first starring role on the small screen was as Lien Hughes in the soap opera As the World Turns. In the '90s, she became known for starring as Dr. Jing-Mei "Deb" Chen in ER. She also played Trudy in the short-lived series The Single Guy. In 1998, she voiced Fa Mulan in the movie Mulan.
She also appeared in the films Rain Without Thunder, The Joy Luck Club, Terminal Voyage, and Street Fighter. In the 2000s, she had starring roles in the short-lived shows Inconceivable and Vanished. She also played Judge Linda Harris in the sitcom Two and a Half Men. She next played Camile Wray in the show Stargate Universe. As of 2013, she plays the role of Agent Melinda May in Agents of S.H.I.E.L.D.
The 54-year-old actress stays in shape by following an active life. Being a prolific screen and voice actress, her schedule alone lets her have an on-the-go lifestyle. She's always busy but she manages to balance every aspect of her life, including giving her body the time to workout. Playing an agent in Agents of S.H.I.E.L.D., the actress knew how it was crucial for her to look the part. So, she really invests time and effort to exercise vigorously.
Interestingly, the actress is not really into working out but she tries her best adopt such lifestyle. She revealed: "I tell people this and they don't believe me, but I really do not like working out. I'm not the kind of person who likes to get up early and put in an hour jogging or whatever. But I'm motivated by fear. I say to myself, 'You're wearing a leather catsuit. Do you want to look bad, or badass?' So it's martial arts training, Pilates, and every five minutes, if no one's looking, I'm doing lunges and squats."