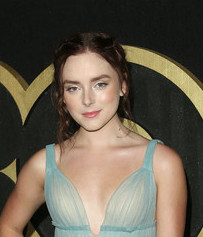 Madison Davenport started auditioning for roles in the 2000s. Finally, in 2005, she landed one-time parts on some television shows. She appeared on Numb3rs, Close to Home, CSI: NY, and Hot Properties. She also played the lead in the short film Harmony Parker. Her first acting role in a film was in Conversations with Other Women where she played a small role. She next guest-starred on Bones, Legion of Super Heroes, Special Agent Oso, and ER.
As a voice actress, she worked in the films Over the Hedge, Christmas Is Here Again, and Horton Hears a Who!. In 2008, she appeared in the movie Humboldt County. That same year, she gained recognition for her role as Ruthie Smithens in Kit Kittredge: An American Girl. This was followed by performances in the films Parasomnia and The Attic Door. Davenport also simultaneously starred in some made-for-television movies.
These include While the Children Sleep, Amish Grace, and Dad's Home. Her roles on television became more prominent in the 2010s. She played Ethel on Showtime's Shameless. She also joined the regular cast of Save Me as Emily Harper. She then starred as Kate Fuller/Amaru on From Dusk till Dawn: The Series, played Ashley Wheeler on HBO's Sharp Objects and will star on Hulu's upcoming series Reprisal.
Madison Davenport takes care of her body by being health conscious. While she doesn't necessarily follow a strict diet, she stays on the healthy side by choosing the right kinds of food. Another part of her lifestyle is exercise. As an actress, it is important for her to keep her energy levels up. To do this, she works out as regularly as possible. She runs, she walks, and she hits the gym whenever she has free time. She's constantly physically active and this makes a great difference in her life.