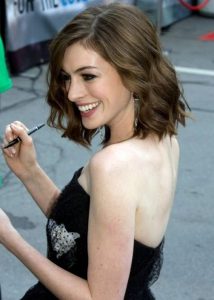 Anne Hathaway became a famous face and name courtesy of her lead role in the Disney film The Princess Diaries, instantly earning her recognition and a Teen Choice Award. She continued her mainstream success in the sequel The Princess Diaries 2: Royal Engagement and Ella Enchanted. Diverging into adult roles, she starred in Havoc and played a supporting role in Brokeback Mountain. She also received prominence for starring in The Devil Wears Prada. Critical acclaim soon came for her lead role in the drama film Rachel Getting Married, also receiving an Oscar nomination. She went on to play Catwoman in The Dark Knight Rises and was lauded for her performance in Les Misérables, for which she won an Oscar, Golden Globe, BAFTA, and SAG for Best Supporting Actress.
It was reported that Anne isn't fond of working out, but this all changed when she secured the role of Catwoman in The Dark Knight Rises. Playing a female superhero in black tights surely changed her mind about exerting physical efforts more. Of course, she had experienced to undergo intense dieting for her role in Les Misérables so she could lose weight, but exercising to achieve a lean figure is a different story.
Prior to being a fan of workout, she said "There's a workout hump where you're so weak that you hate everything, and everything's painful, and you look like an idiot." For her role in Catwoman, she underwent stunt training five days a week. She also danced for an hour and half everyday. In addition to her routine, she lifted weights, did martial arts, and practiced yoga. Her rigorous regimen made Anne realized the fact that it's not always about being skinny in Hollywood but also being strong to be able to play all her roles in the movies more effectively.