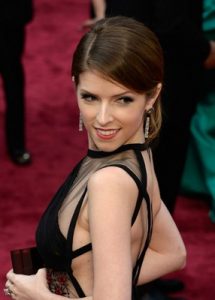 Her supporting role in The Twilight Saga was Anna Kendrick's first step to stardom. Prior to starring in movies, she was actually a prolific stage actress. Her role as Jessica, Bella Swan's friend in The Twilight Saga led her to secure other opportunities. Her performance in Up in the Air earned her acclaim, for which she was nominated for an Oscar for Best Supporting Actress. She has since starred in successful films, including 50/50, End of Watch, Into the Woods, Pitch Perfect and its sequel Pitch Perfect 2. Her recent films this year are Mr. Right, The Hollars, Get a Job, and The Accountant. She has a lot of upcoming movies in the years to come.
The petite actress may be short in stature but her talents in the performing arts are incredibly great. Award-nominated and a box office magnet, Anna has surely come a long way from her stage beginnings. Being naturally slender, the actress does not get obsessed with fitness. Of course, she wants to be fit and healthy, but unlike other actresses, she doesn't get crazy about it. Despite her not being fan of the whole training thing, Anna still acknowledges the fact that she needs to exercise to stay in shape and be strong, something she needs to be able to do her work as an actress more efficiently.
For this reason, she still does cardio exercises and other workout styles in the gym like running on the treadmill. Additionally, Anna is also into outdoor activities and playing sports as her way of challenging her body. This way, she doesn't feel that exercising is a chore, but rather a way of relaxing and having fun. Basically, the actress hasn't been in a movie wherein she needed to do intense action scenes. This is probably the reason why she doesn't feel the necessity to work out more rigorously.