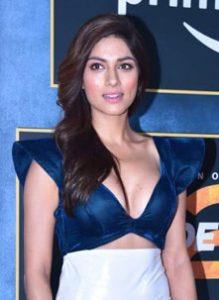 In 2013, Sapna Pabbi made her acting debut in the Indian television series Ghar Aaja Pardesi. She next starred as Kiran Jai Singh Rathod in the action thriller series 24, which aired on Colors TV. After this, she made her feature film debut in the Hindi romantic horror film Khamoshiyan in 2015. She next reprised her role as Kiran in 24: Season 2.
In 2018, she made her Telugu debut in the film Tholi Prema, for which she played the character Sunaina. At the same time, she made her Punjabi debut in Mar Gaye Oye Loko. She next starred in another Punjabi film – Ardaas Karaan. She went on to play the role of Naina in the action thriller heist movie Drive, which was released on Netflix. In addition, Pabbi has had performances in the Prime Video shows Breathe, Four More Shots Please! Season 1 and Inside Edge: Season 2.
Sapna Pabbi takes care of herself by eating well. She doesn't follow any diet and she's definitely not a fan of not being able to eat what she wants. So instead of eating less to the point of being unhealthy, she relies on the nutritional benefits of having organic foods. "I'm a foodie but I believe in organic and homegrown food. We had a garden where we grew fresh vegetables. My father is a chef, and I get it from him," said the actress.
"The taste of fresh food is very different from packaged food. Everyone should opt for this. Also, as a part of my daily chores, I start my day with black coffee, ghee or coconut oil. This flushes out toxins from your body and detoxifies it. Ghee is a very important ingredient that our body needs. I love a bowl of fruits a day," she said.