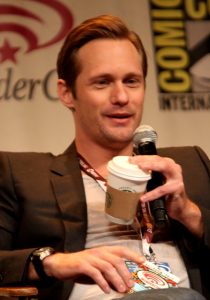 Alexander Skarsgård is a Swedish actor who had his career beginnings in Sweden, establishing his name there prior to moving to Hollywood. His father is actor Stellan Skarsgard. He was first noticed in the US for his role in the HBO miniseries Generation Kill. After this ended, he instantly got another yet greater break when he secured a starring role on HBO's True Blood, a role he has since become associated with. He portrayed the character Eric Northman for years, garnering him mainstream prominence. Due to his newfound popularity, he got more roles on the big screen, playing notable parts in Straw Dogs, Melancholia, Battleship, The Giver, Zoolander 2, and the upcoming movie The Legend of Tarzan where he plays the title role.
Everyone knows the Swedish hottie as the ferocious yet well-loved vampire on True Blood. Compared to his role in Generation Kill, it would seem that the actor bulked up a little to appear more muscular for his part. Now that he's playing the lead in the upcoming Tarzan movie, we're sure that Alexander even worked harder to achieve a Tarzan-kind of look. Aside from working out intensely, the actor has to undergo strict diet to effectively look like the part he's playing. Although it is quite unbecoming for a man to deprive himself of food, Alexander took on the challenge because he wanted to be able to portray Tarzan as realistically as possible.
One secret? Chicken cutlets. That's right. Part of Alexander's diet for Tarzan was eating chicken cutlets for proteins. Generally, he takes food with high calories and protein to bulk up his body, so in addition, he also has lots of fish. This also builds more stamina for him. When he's not preparing for a character, the actor is more laid back when it comes to his eating habits as he doesn't follow any special diet and goes for whatever he likes, as long as he practices moderation and gives way to healthy and clean food most of the time. It has been reported that Moose Stew is Alexander's favorite dish.