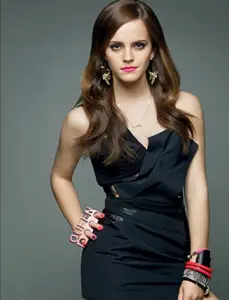 Emma Watson's debut in the world of acting was the biggest success of her career. Impressed by her performance during auditions, she landed the role of Hermione Granger in the first Harry Potter film, Harry Potter and the Philosopher's Stone, despite having no prior screen experience. The massive success of the first Harry Potter installment paved the way for mainstream fame for the then-young Emma and her co-stars. She continued playing the role up to the last Harry Potter film, Harry Potter and the Deathly Hallows –Part 2, the last of which was released in 2011. She has also expanded her career with other feature films, including My Week with Marilyn, The Bling Ring, The Perks of Being a Wallflower, and Noah.
Surely, Emma Watson is a big star all over the globe. Her iconic role as Hermione made sure of that. The actress is also made famous by her persistence to finish college despite her Hollywood fame. Of course, she's also popular because of her good looks. Now that she's an adult, focus on her physical appearance becomes more noticed. Fans wonder how the beautiful actress maintains her good looks and slender physique, which has been the way her body is since she was a little girl. Naturally, Emma mostly eats clean and healthy.
Despite growing up in the show business, she has developed a series of healthy habits that forms her lifestyle, which is why she has managed to stay on top personally and professionally. Aside from the nutritious food that she consumes, Emma engages in exercises and other physical routine that keeps her in shape. Though it is obvious that she is thin, Emma was able to achieve such physical state naturally as being slender is part of her genes. She hasn't really tried undergoing laborious exercises just so she could lose weight. What's more important for her is to keep her stamina going, thus, she's more focused on practicing cardio exercises. For this reason, she likes running, swimming, and even just simple walking. She also likes sports and other outdoor activities. This way, she gets to exercise and have fun at the same time.