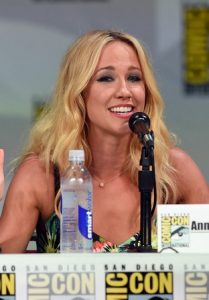 Hollywood star Anna Camp's career beginnings include appearing as a guest role on The Office and Glee. Around the same time, she got the role of Sarah Newlin on True Blood. Her acting stint on the said show led her to more opportunities as it proved to be a great exposure for her. This led her to have recurring roles on Mad Men and Caitlin d'Arcy. Her most prominent role was in the movie Pitch Perfect as Aubrey Posen. She reprised the role in Pitch Perfect 2. Also, she recently had roles in the films Café Society and One Night. She also recently starred on the Amazon series Good Girls Revolt.
It is apparent how the actress has a slender and a toned figure. Being in her mid 30s, she understands how crucial it is to be more active when it comes to practicing a healthier lifestyle. She also makes sure she follows a regular exercise regimen. This is not only for maintaining her healthy weight, but also making her body stronger. In an interview, she said: "When I exercise, I zone out and collect my mind for the day ahead."
The actress also revealed that she works out more during the summer season. She said: "It's bikini season, so you want to work out more. I have a dog, a puggle, and I love going on hikes with her in Griffith Park and Bronson Canyon." Generally, the actress has an active lifestyle which consists of her busy acting career, her on-the-go lifestyle which requires her to be moving from one place to another. Even when she's not busy, she makes it a point to do some form of exercises, basically cardio. She loves walking around with her dog, as mentioned. She also loves running. She also hits the gym whenever she can.