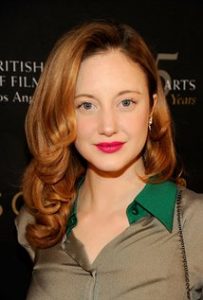 English actress Andrea Riseborough had her beginnings in the mid-2000s. She had minor roles in the films Venus, Magicians, and Happy-Go-Lucky. She went on to appear in 8 episodes of the show Party Animals, as well as portrayed Margaret Thatcher in the TV film The Long Walk to Finchley. She also had a role in the miniseries The Devil's Whore. At the beginning of the 2010s, she became noticed for her supporting performances in such films as Made in Dagenham, Never Let Me Go, Brighton Rock and Resistance. She later portrayed Wallis Simpson in the movie W.E.
She next acted in the movies Shadow Dancer, Disconnect, and Welcome to the Punch. She became further known when she starred alongside Tom Cruise in the Hollywood film Oblivion. This prompted her to land roles in other Hollywood productions, including Birdman or (The Unexpected Virtue of Ignorance), Nocturnal Animals, and Battle of the Sexes. She next portrayed Svetlana Stalina in the movie The Death of Stalin. She recently played the titular character in the 2018 movie Nancy. She's also played Evangeline Radosevich in the TV series Bloodline, as well as played Evangeline Radosevich in the series Waco.
The actress nears her 40s but she remains fit and beautiful. What's her secret? She practices a balanced and a healthy lifestyle. She chooses her food well but she also doesn't deprive herself as well. This is possible for her as long as there's balance, which is key to enjoy food without being unhealthy. For one, she focuses on lean proteins and fruits and veggies.
She also has indulgences and one is chocolate. In an interview, she talked about eating chocolate as part of her daily life. She said: "I AM EATING… chocolate for breakfast, and I have done for years. I eat chocolate probably more than anything else, but it has to be dark chocolate. Life is short so you might as well eat chocolate for breakfast."