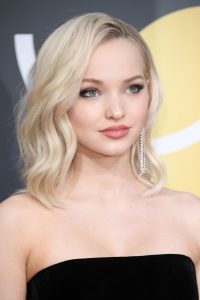 It was in 2012 that actress Dove Cameron got her start in the show business. She got her break the following year when she began playing the dual role of Liv / Maddie Rooney in the Disney comedy series Liv and Maddie, which aired on television from 2013 to 2017. While on the show, she also starred in the TV movie Cloud 9 and played the lead in the Disney Channel Original Movie Descendants. She reprised the role in the animated version series Descendants: Wicked World, as well as in the sequel Descendants 2.
She also played Amber Von Tussle in Hairspray Live!. After Liv and Maddie, she had recurring roles in the TV shows The Lodge and Agents of S.H.I.E.L.D. She will reprise her role as Mal in the upcoming sequel Descendants 3. On the big screen, she made her debut in the movie Barely Lethal. She also starred in R.L. Stine's Monsterville: Cabinet of Souls. This year, she starred in the film Dumplin'. In addition, she will work in the upcoming animated film The Angry Birds Movie 2.
The young actress considers herself a fitness and health junkie. That's why even at her young age of 22, she takes her diet regimen and workout routine quite seriously. As a matter of fact, she manages to workout regularly despite her crazy schedule. According to her, her weekly exercise routine consists of "cardio, body-weight strength training, and a mix of Pilates, barre, and cycling classes."
Also, now that she's going to reprise her lead role in the upcoming Disney TV movie Descendants 3, Dove is working on taking her fitness routine to the next level. In her tweet, she let her fans know how she's prepping for her current project. She said: "20-minute stair master level 10, 20-minute bike level 8, 10-minute elliptical level 10×10, 10 minutes body weight booty work." She also mentioned that she drinks lots of water to help with her hydration given her intense workout routine.