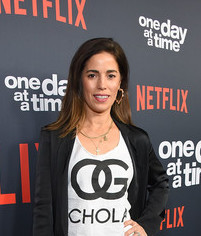 Ana Ortiz had her career beginnings in the mid 1990s. She debuted with a brief role in the Finnish-American film Condition Red. Later in 1999, she also appeared briefly in the made-for-television movie Dr. Quinn Medicine Woman: The Movie. She then successfully landed her first starring role as Santa Clemente in the short-lived sitcom Kristin.
After more guest appearances, she starred as Ana Rivera in another sitcom A.U.S.A., which was also cancelled after one season. She continued making one-time roles on TV, as well as played recurring parts in Over There and Boston Legal. After this, Ortiz came to prominence courtesy of her role as Hilda Suarez in Ugly Betty. The series was popular during its run on ABC from 2006 to 2010. She also had roles in some films, including Mr. St. Nick, Carolina, Tortilla Heaven, and Labor Pains.
In 2011, she played Lydia in some episodes of HBO's Hung. She was then chosen as one of the lead stars in the ABC comedy-drama series Devious Maids, playing the role of Marisol Suarez. The show lasted four seasons. She also had recurring roles in Marry Me and The Mindy Project. In 2019, Ortiz starred as Susan Sampson in the TV series Whiskey Cavalier. More recently, she starred as Isabel Salazar in the teen drama Love, Victor.
Apart from her healthy diet plan, Anna Ortiz stays fit and toned by living an active lifestyle. Her go-to exercise? Hiking with her family and dog. "I take my dog, Fideo, out for a hike in Runyon Canyon three times a week. It's about 45 minutes round-trip with a variation of supersteep hills and flat areas," said the actress. "He's always running ahead, which helps me push myself, especially up the hills."
She also prefers variety when it comes to her fitness regimen. "I like to mix it up. I like to sort of do everything," she revealed. "I like to play tennis, I like to run, I like to dance, I like to take a boxing class. For me it's got to be a variety otherwise I get a little bored."