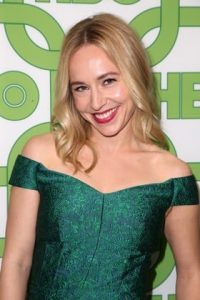 Canadian star Sarah Goldberg began her professional acting career in theater. Soon, she transitioned to working on screen. She initially made her film debut with a small role in 2008's A Bunch of Amateurs. In 2010, she had her first television appearance in an episode of Any Human Heart. She next played small roles in such films as The Dark Knight Rises and Gambit.
She also made one-time roles in the television shows Elementary and Black Box. She went on to star as Lolly Lavigne in the comedy-drama Hindsight. In 2017, she had performances in the films Crown Heights, Izzy Gets the F*ck Across Town, and Bikini Moon. The following year, she starred in the movie The Hummingbird Project. It was also during this time that she started playing the role of Sally Reed in the HBO series Barry.
She has been part of the show's main cast since 2018. More recently, Goldberg had notable performances in the movies The Report and The Night House. The actress also received praise for her acting in Barry. For her role there, she was nominated for Outstanding Supporting Actress in a Comedy Series at the Primetime Emmys.
Sarah Goldberg stays in shape by taking care of her body. She tries to be mindful of her food choices, as well as active in her lifestyle. She's also recently discovered the benefits of a fitness regimen. "I am fairly new to working out. I have begrudgingly come to realize that exercise is synonymous with your thirties," said the actress.
"Power walks in the park to loud 90s power ballads are my favorite. I also love pilates. Pilates has really helped me to feel stronger and more in alignment. It also really helps with the physical requirements of my job."