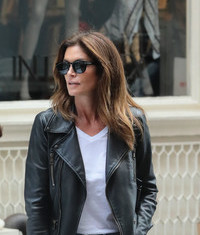 In the modeling world, Cindy Crawford needs no introduction. She garnered much fame during the 1980s and 1990s. During this period, she was one of the most popular supermodels known internationally. She frequented magazine covers, runways, and ad campaigns for famous brands. Many times she appeared on the cover of Vogue, W, People, Harper's Bazaar, Elle, Cosmopolitan, and Allure.
She has also walked the runway for such fashion houses Chanel, Versace, Dolce & Gabbana, Christian Dior, Calvin Klein, Ralph Lauren, and many others. In ad campaigns, she's best known for getting featured in Omega, Maybelline, Clairol, Pepsi campaigns. In 1989, she ventured into television when she hosted MTV's House of Style. She was the host of the show until 1995. She next made one-time appearances in Muppets Tonight!, Frasier, and 3rd Rock from the Sun.
In 1995, she appeared as herself in the documentary film Unzipped. That same year, she made her film debut starring as the female lead opposite William Baldwin in Fair Game. She later hosted the TV special Sex with Cindy Crawford. In the 2000s, she starred in the feature film The Simian Line, as well as guest-starred in Wizards of Waverly Place. Recently, she's been appearing as herself in some shows, including Who Do You Think You Are?, Cougar Town, Lip Sync Battle, and Bojack Horseman.
Cindy Crawford maintains her fit and strong body with regular exercise. Overall, her workout routine combines cardio and strength training. "My go-to workout would be 20 minutes of cardio then weights," said Crawford. "Sometimes the cardio is jumping on a trampoline, using a treadmill or elliptical, or running. We have stairs going down to the beach from our house. I put on an audiobook or music while I run the stairs at my house for 20 minutes." She also loves having fun while working out so she hikes with friends and even attends pole dancing classes.