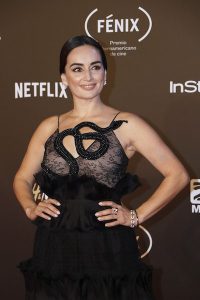 Mexican actress Ana de la Reguera first performed in telenovelas during the 1990s. The following decade, she transitioned to acting in movies. After a couple of cinematic roles, she had had first notable part in the 2006 sports comedy film Nacho Libre, which starred Jack Black.
A few years later, she received more work in Hollywood, starting with the action film Cop Out. That same year, she starred as Vida in the television series Eastbound & Down. She then guest-starred in such shows as Royal Pains, Anger Management, The Blacklist, and Jane the Virgin. She went on to star as Elisa Alvaro in Netflix's Narcos, as well as appeared as Alicia Jimenez in the TV series Power.
At the same time, she had performances in other programs, which include Twin Peaks and Goliath. Also in the 2010s, de la Reguera starred in some movies, such as Cowboys & Aliens, Jessabelle, The Book of Life, and Everything, Everything. This year, the actress played the role of Cruz in the Netflix film Army of the Dead. She also played the title role in the Comedy Central series, Ana.
In her 40s, Ana de la Reguera maintains her healthy body by sticking to an active lifestyle. She admits she's not really fond of spending hours at the gym, but she makes up for it by simply being active. She also explores other ways to work out so that she's always challenged and motivated.
"It's very important to do something you like and that it's not the same every day so you don't get bored," said the actress. "I don't spend more than an hour working out. I would rather work harder, and that way it doesn't feel like it takes forever or is a big part of my day." So what are the things she does to exercise?
For starters, she plays tennis. "To me this is not a workout, but a fun extracurricular activity I do with friends so it doesn't feel like I'm working out," the actress said. She also loves to walk, dance, perform strength training, and squats.