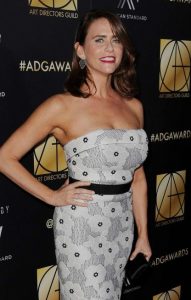 Hollywood star Amy Landecker had her career beginnings in the late 1990s. Her first television role was in Early Edition. In the 2000s, she mostly had guest appearances on such TV shows as Law & Order: Special Victims Unit, Conviction, and Mad Men. She also appeared in the films Dan in Real Life and A Serious Man. In the 2010s, she first had a recurring role in the comedy-drama series Louie.
Her first regular role on the small screen was in The Paul Reiser Show. She next played Dr. Michelle Banks in Revenge. In 2014, she gained mainstream recognition after she started playing the role of Sarah in the show Transparent. At the same time, she played the voice of Barbara Lake in the animated series Trollhunters. Also in the 2010s, she had roles in the films Project Almanac, The Meddler, Dreamland, Doctor Strange, Beatriz at Dinner, and The Hunter's Prayer. Her latest movie was in 2018's A Kid Like Jake.
The 48-year-old actress stays in shape by following a healthy lifestyle. She works out and sticks to a clean diet plan as well. While she admits to eating more now that she's older, she makes sure that she only focuses on nutritious meals. She said: "As far as food, I find myself eating more and more as I get older and happier. I am ten pounds heavier than I was in my thirties because I am more aware that life is short and I don't need to deprive myself to get work."
"That said, I try to eat gluten-free as much as possible and cut every portion in half of whatever I'm eating – especially at restaurants. I also try to not drink too many of my calories because I find myself hungrier more often," she added. Of course, the actress has indulgences, too, and mostly it's donuts that she craves.