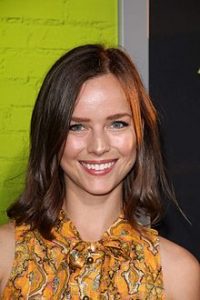 Actress Allison Miller debuted in an episode of General Hospital in 2006. She subsequently guest-starred in other TV shows, most notably as Marlena Hoffman in the TV series Boston Legal. She next made her cinematic debut with a minor role in the film 17 Again, which was released in 2009. That same year, she starred as Alice McKee in the movie Blood: The Last Vampire. She also starred as Michelle Benjamin in the short-lived series Kings.
In the 2010s, she became further recognized for starring as Skye Tate in the sci-fi drama show Terra Nova. She next played recurring character Carrie in the NBC sitcom Go On. Afterward, she played the lead role as Samantha McCall in the psychological horror film Devil's Due. At the same time, she played Julia, a recurring part, in the short-lived show Selfie.
She also starred as Catherine Brown in the film There's Always Woodstock. From 2016 to 2016, she played the role of Laura in the Syfy series Incorporated. Following this, she played Sonya Struhl in the second season of 13 Reasons Why. As of 2018, she stars as Maggie Bloom in the family drama series A Million Little Things.
Apart from her diet plan, the actress maintains a healthy body by working out as regularly as she can. Being a full-time actress, she also considers her on-the-go lifestyle a kind of workout. When she's out and about, she finds herself walking a lot, using the stairs, and the likes. These are good enough cardio exercises that she does without the need to feel motivated. She does hit the gym during her free time where she typically attends barre classes. After trying barre, she found it enjoyable to do that shes's made it one of her go-to workouts. Its use of ballet barre and incorporation of movements derived from ballet has made it fun for her.