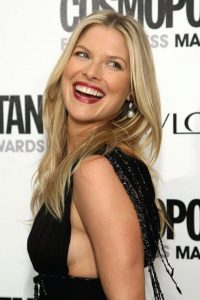 Hollywood star Ali Larter had her career beginnings in the late 1990s. During her early years, she made one-time roles in Suddenly Susan, Chicago Sons, and Dawson's Creek. On the big screen, her first work was in the Hindi film Sharpheroes. She next had notable performances in the movies Drive Me Crazy, Varsity Blues, and House on Haunted Hill. Her career flourished in the 2000s. During this period, she starred as Clear Rivers in Final Destination.
She next played Brooke Taylor Windham in Legally Blonde and Zerelda "Zee" Mimms in American Outlaws. She reprised her role as Clear Rivers in Final Destination 2. Other film roles during this period include Jay and Silent Bob Strike Back, Three Way, and A Lot Like Love. In 2006, she gained wider recognition for her role as Niki Sanders in the NBC series Heroes, a role she played until 2010. Simultaneously, she starred as the female lead in the Bollywood film Marigold.
At the same time, she played Claire Redfield in 2007's Resident Evil: Extinction. She went on to star in the 2009 movie Obsessed. The following decade, she reprised her role as Claire Redfield in Resident Evil: Afterlife. She next had performances in the films Lovesick, You're Not You, and The Diabolical. Her latest film role was in 2016's Resident Evil: The Final Chapter. Back on TV, she's starred on the short-lived shows Legends and Pitch.
The 43-year-old actress stays in great shape by watching what she eats and when she eats. For starters, instead of having three meals per day, she has five to six, smaller meals. She has an early breakfast, mid-morning snack, small lunch, later afternoon snack, and dinner. Taking her healthy habits to the next level, she's done the Clean Program. This involves cutting out alcohol, sugar, and dairy. Moreover, it's a 21-day regimen involving healthy shakes, probiotics, supplements, and lean low-carb lunch meals. As for her go-to healthy snacks: "The hummus and pesto with veggies is a big one," said the actress. She also munches on chia seeds and coconut water.