Breakthrough in Gilmore Girls and Continuous Success
Kimberly Alexis Bledel was born on September 16, 1981 in Houston, Texas to parents Nanette and Martin Bledel. She has a younger brother named Eric. She was raised in a Spanish-speaking household and did not learn to speak English until she started school.
As a child, her mother encouraged her to join community theatre to overcome her shyness. Soon after, she appeared in local productions of Our Town and The Wizard of Oz. She was then spotted at a local shopping mall and was offered to work as a fashion model.
She subsequently studied at Page Parkes Center for Modeling and Acting before enrolling at New York University's Tisch School of the Arts where she studied for a year. In 1998, she made her screen debut in an uncredited role in Wes Anderson's film Rushmore.
In 2000, she made her television debut as Rory Gilmore in The CW comedy-drama series Gilmore Girls opposite Lauren Graham. The series ran from October 5, 2000 to May 15, 2007 where it premiered to critical acclaim. It lasted seven seasons, for which Bledel earned worldwide recognition.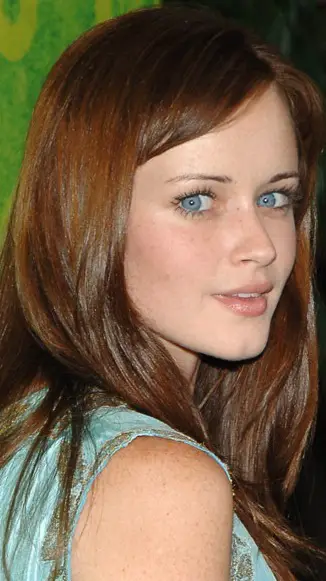 For her performance as Rory, she earned numerous awards such as a Young Artist Award for Best Performance in a TV Drama Series – Leading Young Actress and a Family Television Award for Best Actress. She also earned several Teen Choice Awards, Saturn Award, ALMA Awards and Satellite Awards nominations.
She then made her feature film debut with 2002's Tuck Everlasting. Two years after, she appeared in the short films ¿Cuanto cuesta la admisión? and DysEnchanted. That same year, she played the role of Georgina "Georgie" Darcy in the romantic musical feature Bride and Prejudice.
In 2005, she landed the role of Becky in Frank Miller's Sin City, which was also directed by Robert Rodriquez. The film received positive reviews and was also a box office success, earning over $150 million on a $40 million budget.
Later in 2005, she portrayed Lena Kaligaris in The Sisterhood of the Traveling Pants. Reception for the movie was positive and it also became a moderate box office success.
She next appeared in 2006's I'm Reed Fish, followed by Zoom and the short film Life Is Short, where she also served as the producer. Her next film role came two years later, reprising her role as Lena in 2008's The Sisterhood of the Traveling Pants 2. Just like its predecessor, it won favorable reviews from critics and was a moderate box office success, grossing over $40 million worldwide.
In 2009, she starred alongside Scott Porter and Bryan Greenberg in the romantic comedy film The Good Guy and played the lead role of Ryden Malby in Post Grad. The movie was panned by critics and was also a commercial flop, only earning over $6 million, way beyond its $15 million budget.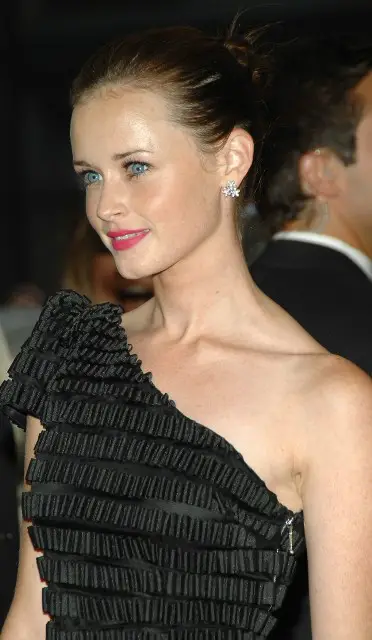 Subsequent Work and Plastic Surgery
Her next film role came the following year as Sarah Weston in Robert Redford's historical drama film The Conspirator. It premiered at the Toronto International Film Festival and garnered mixed reception upon its release. It also performed poorly at the box office.
She next appeared in the Canadian feature The Kate Logan Affair, which premiered at the Festival du Nouveau Cinéma. In 2011, she joined the cast of the ensemble film Girl Walks into a Bar and starred opposite Saoirse Ronan in Violet & Daisy.
In 2012, she played the role of Payton in The Brass Teapot, alongside Juno Temple and Michael Angarano. She also stars in the upcoming movies Parts per Billion and Jenny's Wedding. She recently landed the role of Stacey in the upcoming television series Us & Them, which will premiere on Fox.
It may be hard to believe especially to fans but the Gilmore Girls star has also been rumored of going under the knife. Does she even need to? Not that other celebrities who underwent surgeries really needed to but Bledel is one of those actresses in Hollywood who doesn't seem to be the type to go under the knife.
There were some reports claiming that the 32-year-old actress has had a nose job before, which was just too subtle to get noticed. There were also some hearsay that the actress doesn't seem to age at all like she's still a teenager because she's relying on cosmetic enhancements to help her maintain a very youthful look.
Fans were quick to defend the actress, saying that Bledel's nose has some distinctive imperfections that wouldn't be there if she had a nose job. Her lips are also a bit asymmetric and she could have had them done but her lips are still the same and Bledel is not bothered by them. Probably she believes in the saying that the little imperfections are what makes a person unique. Good for her 'cause she's absolutely stunning!