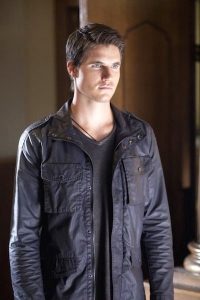 Canadian star Robbie Amell started his career in the movies. He made a solid debut in the famous film Cheaper by the Dozen 2. He next starred in the straight-to-video film American Pie Presents: Beta House. Simultaneously, he started a TV career, starring on Life with Derek. He became known among TV audiences for starring on the Nickelodeon series True Jackson, VP. He played Jimmy Madigan on the sitcom. He had recurring roles on Revenge, Alcatraz, and Zach Stone Is Gonna Be Famous. He then played the lead on The Tomorrow People. He recently played notable roles on The Flash and The X-Files. He also played the male lead in the comedy film The Duff.
The young actor is remarkable in his handsome face and great physique. No wonder he's getting more significant roles both on film and television. Having played action-oriented roles on TV, Robbie is not new to the world of workouts. Amazingly, he has managed to achieve the right physique that complements his stature (he stands at 5'11). He's accomplished to obtain the right muscle mass that made his body looking fit and lean, but not too much. Overdoing it sometimes happens to other actors, like Jake Gyllenhaal in Prince of Persia.
Just like his cousin Stephen Amell (who stars on Arrow), Robbie is also a fan of freerunning. It gives him the kicks and the satisfaction to vault over boxes, run up walls, swing from bars, and jump off 50-foot ledges. Though he seeks to engage himself in freerunning more regularly, his busier schedule recently stops him from doing so. He actually began freerunning about four years ago. In an interview, he credited freerunning as the routine that has helped him perform complicated stunts on The Flash. "Freerunning has helped me get in shape for roles," the actor was noted saying.