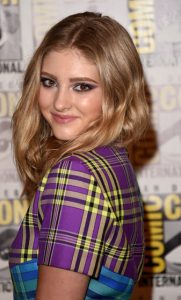 Hollywood star Willow Shields first debuted in the short film Las Vegas New Mexico 1875 in 2008. She later made her television debut in an episode of In Plain Sight. In 2011, she starred in the made-for-television movie Beyond the Blackboard. Afterward, she successfully auditioned for the role of Primrose Everdeen in 2012's The Hunger Games. She has since reprised her role in the sequels The Hunger Games: Catching Fire, The Hunger Games: Mockingjay – Part 1, and The Hunger Games: Mockingjay – Part 2.
In between, she appeared in an episode of R.L. Stine's The Haunting Hour. In 2015, she competed in Dancing with the Stars during its 20th season. She was eliminated after seven weeks. She later starred in the feature film Into the Rainbow, followed by the 2018 movie A Fall from Grace. Just this year, she appeared in the film Woodstock or Bust. She was then cast for the role of Serena Baker in the upcoming Netflix series Spinning Out.
The 19-year-old actress sticks to a healthy diet plan despite her young age. While she's not strict when it comes to her diet, nor does she deprive herself of food, Shields stays slender and on top shape. All thanks to her balanced diet. Because she's at the age where she wants to enjoy everything including food, she doesn't want to limit herself with what she can eat. Whenever she craves for something, even pizza, she allows herself to have some, just as long as she doesn't binge-eat. Cliche as its, moderation is the key.
In the morning, The Hunger Games actress loves to start her day right with whole grain cereals, oatmeal, or an omelet with whole grain toast. For lunch and dinner, it's typically fish or chicken with salad. Sometimes, she indulges in pasta as she's not afraid of carbs every now and then. In between meals, she snacks on protein bars, shakes, and blueberries.