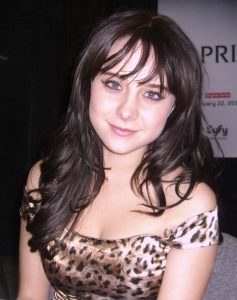 Hollywood star Alessandra Torresani has been acting since 1997. She first appeared as an extra on the TV series KaBlam! She next had one-time roles on ER and Working, as well as made her film debut in Lost and Found. In the 2000s, she had guest appearances on the TV shows Popular, Even Stevens, Malcolm in the Middle, JAG and Arrested Development. At the same time, she starred in the made-for-television film Going to the Mat.
She also had roles in the independent movies Mad Song and Baby Bedlam. Later during the decade, she had one-time appearances on Terminator: The Sarah Connor Chronicles and CSI: Crime Scene Investigation. She next starred as Zoe Graystone on the sci-fi drama series Caprica. Afterward, she appeared as a guest judge on RuPaul's Drag Race and played the role of Meagan Reese on Warehouse 13. From 2011 to 2013, she also became known for playing Haley on the web series Husbands.
She simultaneously played Stephanie Boggs in 2 episodes of American Horror Story: Murder House. She went on to guest star on Two and a Half Men and Workaholics. In 2015, she played Brooke in The Fosters. From 2016 to 2017, she became known for her recurring role as Claire on The Big Bang Theory. Also in the 2010s, she had performances in the films Playback, The Moment, and Car Dogs. She recently starred in the direct-to-video movie Step Sisters.
The actress doesn't follow a specific diet plan. She also doesn't think that strict dieting or depriving herself of food to stay lean is healthy. What she does is eat what she wants as long as she does so in moderation. Moreover, she understands that her body needs healthy foods to stay in great shape so she tries to balance between eating well and satisfying her cravings. She eats plenty of fruits, nuts, and whole grains, as well as incorporates vegetables into her meals. She also drinks lots of water to stay hydrated.