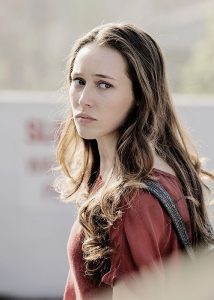 Australian beauty Alycia Debnam-Carey's career dates back in 2003. She made her television debut on the local screen. During this time she also acted in a few short films. In the 2010s, she made a guest appearance on the Australian show Dance Academy. Her first significant work was on the documentary series Next Stop Hollywood. She soon started a career in the US as she landed the role of Commander Lexa on The 100. Around the same time she secured a starring role in the film Into the Storm. She went on to star in the films The Devil's Hand and Friend Request. As of 2015, she stars on The Walking Dead spin-off Fear the Walking Dead.
Standing at 5'5, the 23-year-old actress stays notable for her acting chops and strong screen presence. She also has slender body that she maintains by leading a healthy lifestyle. Though she's just in her early 20s, the actress doesn't use this as an excuse to indulge in unhealthy habits. Most of the time she eats foods that she knows are right for her. She is a food lover, but she practices moderation when eating to maintain her healthy weight.
Eating right also gives her the focus and energy to perform more effectively as an actress. It keeps her energetic throughout the day and it also clears her mind, making her generally in the good mood. These are just some of the benefits of healthy eating that she enjoys. She focuses on eating lean proteins and foods that are rich in antioxidants and fiber. She also eats her meals regularly and doesn't believe in extreme dieting to achieve a skinny body. To balance it out, she indulges in her cravings from time to time like sweets, but as mentioned, she practices portion control. Her diet ways make her sexy, beautiful and happy.