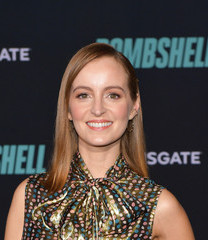 Hollywood star Ahna O'Reilly made her professional acting debut in 2003 with the film Bill the Intern. After playing small parts in some films, she appeared as Leslie in the romantic comedy film Forgetting Sarah Marshall. She went on to appear in Just Add Water and The Harsh Life of Veronica Lambert. On TV, she had her first role in an episode of CSI: NY in 2008.
O'Reilly's breakthrough role was as Elizabeth Leefolt in the period drama film The Help. After this, she had performances in the movies From the Head, The Time Being, Miss Dial, CBGB, The Big Ask, and Fruitvale Station. In 2013, she portrayed Chrisann Brennan in the biographical film Jobs. She continued her prolific movie career with so many performances.
Some of these are credits in Lucky Them, Get on Up, The Sound and the Fury, and Elvis & Nixon. She also played the lead role in the movie No Way Jose. At the same time, the actress continued acting on TV as well with guest parts. She went on to play the recurring character, Amy, in Kingdom. More recently, she played a supporting role in the drama film Our Friend and portrayed Julie Roginsky in the drama film Bombshell.
Ahna O'Reilly has always been health conscious. While she doesn't take extreme ways to diet, she chooses healthy foods on a regular basis. The actress prefers to nourish her body by being healthy. Instead of trying diet tricks or not eating to lose weight, she sticks to a simple, nutritious diet, which for her is the best way to looking and feeling good.
Most days, she likes organic foods and incorporates veggies into all her meals. Her diet plan typically consists of whole grains, healthy fats, lean proteins, and lots of fruits and vegetables. Every now and then, she indulges in her cravings, like pizza, fries, and sweets but she does so in moderation.