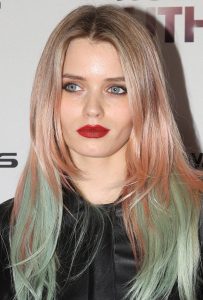 Abbey Lee initially came to prominence as a fashion model, debuting in the 2008 New York Fashion Week. She then modeled for Gucci during the Milan Fashion Week afterward. She later appeared during the Victoria's Secret Fashion Show. After years of a prolific modeling career, she ventured into acting. Later in 2011, she made her debut in the short film called Submission. Years later in 2015, she played the role of The Dag in the Hollywood movie Mad Max: Fury Road. That same year, she appeared in the films Ruben Guthrie and Caprice. The following year, she played the role of Anat in the feature film Gods of Egypt.
She also co-starred as Sarah in the film The Neon Demon. She went on to have performances in the movies Office Christmas Party, The Dark Tower, as well as in the Australian film 1%. For her role in 1%, she was nominated for Best Lead Actress at the AACTA Awards. In 2018, she landed acting parts in the films Welcome the Stranger and To the Night. She also played the titular character in the sci-fi thriller Elizabeth Harvest. In 2019, she starred in the French film Lux Æterna. This year, she recently started playing the role of Christina Braithwhite in the new series Lovecraft Country, which currently airs on HBO.
Working as a fashion model, Abbey Lee admits to having followed strict diets to stay slim. "Sure, we had to be skinny. I lived on Diet Coke and apples for two years," said the model-turned-actress. "For the couture, we had to get up at 4 am to be sewn into the clothes and there was huge pressure to be thin." In general, she sticks to a healthy diet plan that mainly consists of vegetables and fruits. She snacks on almonds, fruits, and smoothies in between meals as they're filling and nutritious at the same time.