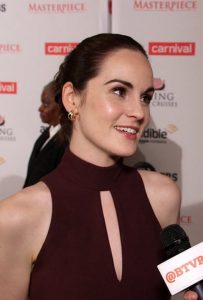 English actress Michelle Dockery began her career on British screen in the mid 2000s. She worked on shows, TV movies and films at the beginning of her acting journey. After guest appearances on Waking the Dead and Return to Cranford, she got her break as Lady Mary Crawley on Downton Abbey. She played the said role for several years, gaining her wider recognition. Simultaneously, she had roles in some films. This includes Hanna, Anna Karenina, Non-Stop and Self/less. She now stars as the lead on the American series Good Behavior.
Standing at 5'8, the 35-year-old actress is not only notable for her acting chops, she also grabs attention with her toned figure. She may be already in her mid 30s, but her svelte figure says otherwise. Ever since her major stint on Downtown Abbey, Michelle has been a television staple. With this her fans wonder how she keeps her body slender and toned at the same time. In an interview before, the actress credited wearing corsets for Downtown Abbey that has helped her stay slender.
She said: "I don't mind wearing a corset, it informs your posture, changes the way you move, you can't slouch." In addition to this, she opts to eat right most of the time. Her diet mainly consists of lean protein, vegetables and fruits. She makes it a point to incorporate veggies in all her meals. She drinks plenty of water to keep feeling refreshed. This also helps her curbs her hunger, allowing her to make healthy choices when picking her food. Of course the actress also practices on eating in moderation.
Portion control is something that has helped her stay healthy all these years. She allows herself to have indulgences because this prevents her from feeling deprived. Most of the time when you ban yourself from eating the foods that you like, you end up binge eating instead. This ruins your entire healthy diet plan. Michelle wants to avoid this by allowing herself to enjoy the food she loves. She just makes sure she does in moderation only. When asked about her greatest indulgences, she said it's sushi and wine.