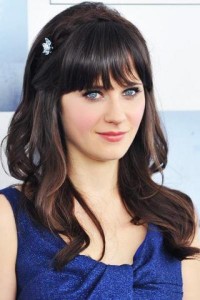 American actress and singer Zooey Deschanel has always been a sight for sore eyes. Starting her acting career in the late 1990s, she got significant attention for her supporting role in Almost Famous (2000). The rest of the 2000s proved to be vital in Zooey's career as she performed in several movies like The Good Girl, The Hitchhiker's Guide to the Galaxy, Live Free or Die, Bridge to Terabithia, The Assassination of Jesse James by the Coward Robert Ford, and The Happening, though it was her role as Summer in the romantic comedy-drama (500) Days of Summer that made her more famous. She even became closer to worldwide audiences for her lead role in the hit comedy series New Girl, which she's been playing since 2011. Her role as Jess has already gotten her Golden Globe and Emmy nominations for Outstanding Lead Actress in a Comedy Series. Before fully venturing on television with New Girl, she starred in Our Idiot Brother and Your Highness, both released in 2011.
The multi-talented star is turning 36 in the next few months but her entire physical appearance seems very youthful. Surely, it has something to do with her lifestyle, which includes her workout routine and diet plan. Unfortunately, the New Girl actress is allergic to eggs, dairy, and wheat gluten. Also, Zooey used to practice vegan diet but had to change her eating ways due to her food sensitivities, which made it harder to follow such dietary regimen while making sure she gets sufficient nutrients.
Furthermore, Zooey sticks to having three meals per day. Because she doesn't feel hungry very often, she doesn't feel the need to have snacks, thus, keeping the 3-meal-per-day diet plan. Her everyday meals usually consist of balanced combination of complex carbs, lean proteins, and healthy fats. When traveling, Zooey is more likely to have snacks. So, to avoid from munching on junk foods, she makes sure she only has healthy snacks like nuts and fruits with her.