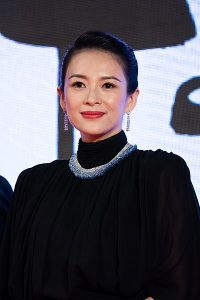 Zhang Ziyi's acting career spans decades. In 1996, she made her film debut in the Chinese film Touching Starlight. Later in 1999, she played the lead in Zhang Yimou's The Road Home. The following year, she gained further recognition for playing a supporting role in Ang Lee's Crouching Tiger, Hidden Dragon. Soon, she ventured into Hollywood debuting in the 2001 film Rush Hour 2. That same year, she appeared in the Korean film Musa.
She next collaborated with director Zhang Yimou in the film Hero and went on to play the title role in Wong Kar Wai's romantic drama film 2046. She also starred in Yimou's House of Flying Daggers. In 2005, she starred in the Japanese movie Princess Raccoon and rose to wider fame for her lead role in the Hollywood film Memoirs of a Geisha. Her next role was in the American film Horsemen.
In the 2010s, she had starring performances in several Chinese films, including Love for Life, Dangerous Liaisons, Better and Better, and My Lucky Star. She also starred in Wong Kar Wai's 2013 movie The Grandmaster. More recently, she starred in the Hollywood features The Cloverfield Paradox and Godzilla: King of the Monsters. She'll reprise her role as Dr. Ilene Chen in the Godzilla sequel Godzilla vs. Kong.
Zhang Ziyi loves to exercise. From swimming to running, she keeps herself active most days. Her active lifestyle is one of the things helping her stay in great shape. As for her diet plan, the actress admits in an interview that she doesn't follow any diets. "Diet? No, I don't have a diet. I eat anything; I eat a lot!" said the actress. Nonetheless, she makes sure most of the foods she eats are healthy. She focuses on plant-based meals and usually avoids processed and junk foods to cut back on sugar, fats, and carbs.