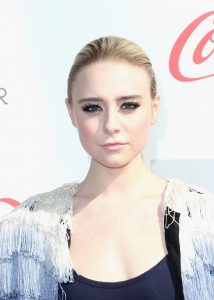 In 1997, actress Alessandra Torresani debuted as an extra in an episode of KaBlam!. She next had one-time roles in ER and Working. She later made her big screen debut in the film Lost and Found. In the following decade, she had guest appearances in various television shows, including Even Stevens, Popular, and Malcolm in the Middle.
She landed more guest roles in JAG, Arrested Development, Grounded for Life, Love, Inc., and The War at Home. She also appeared in the independent films Mad Song and Baby Bedlam, as well as acted in some television films. Her first regular role on the small screen was as Zoe Graystone in the sci-fi drama Caprica. After guest-starring in an episode of Warehouse 13, she played the role of Haley in the web series Husbands.
She next appeared as a recurring character in American Horror Story and The Fosters. She became known for her recurring role as Claire in The Big Bang Theory. Her latest television role was as Duela Dent in the new series Batwoman. Also in the 2010s, she had performances in the films Playback, The Moment, and Car Dogs. Her most recent movie role was in 2018's Step Sisters.
Alessandra Torresani maintains her healthy figure with a combination of a nutritious diet and regular workout routine. As for her fitness regimen, not only does she work out but she's also naturally active in her day to day. She prefers walking when doing easy errands, climbing stairs instead of using elevators, and spends time with her friends playing sports or doing some outdoor activities. When working out, she typically combines cardio, light weights, and some stretches. She also loves to meditate, do yoga, as well as Pilates. To spice things up, she constantly looks for physical activities and classes to try.