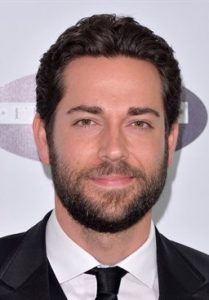 Actor Zachary Levi debuted in 2002 with the TV film Big Shot: Confessions of a Campus Bookie. Around the same time, he also starred as Kipp Steadman on the ABC sitcom Less than Perfect, which aired from 2002 to 2006. While starring on the show, he also guest-starred on The Division and Curb Your Enthusiasm. Following this, he made his big screen debut in the film Big Momma's House 2. He next starred in the movie Spiral, which he also produced. His claim to fame was as Chuck Bartowski on the NBC series Chuck. He played the said role from 2007 to 2012, earning him mainstream prominence.
Simultaneously, he starred in the movies Wieners, Shades of Ray, and Alvin and the Chipmunks: The Squeakquel. He also voiced Flynn Rider / Eugene Fitzherbert in the movie Tangled. After Chuck ended, he landed the role of Fandral in Thor: The Dark World, a role he reprised in Thor: Ragnarok. He also played Luke Collins on the limited series Heroes Reborn. In 2017, he started voicing Flynn Rider / Eugene Fitzherbert on Tangled: The Series. At the same time, he played Jeremiah Pontelli on the miniseries Alias Grace. As of 2018, he has a recurring role on The Marvelous Mrs. Maisel. Recently, it was announced that he landed the titular character in the upcoming superhero movie Shazam!.
The 38-year-old actor is currently bulking up for his latest superhero film role — Shazam! Getting the part, he knew he needed to up his workout routine to gain more muscles and improve his strength and agility. He was really required to step up as far as his workout regimen was concerned, in order to achieve the look he needed to play a superhero. Talking about his training, the actor said about his workout schedule: "I'm working out like 5, 6 days a week … Depends. Sometimes we'll do two-a-days and then more off days, but typically we'll do an hour-and-fifteen-minute sessions every day." Prior to getting the role, he was 200 pounds – now he's 220 – so far.